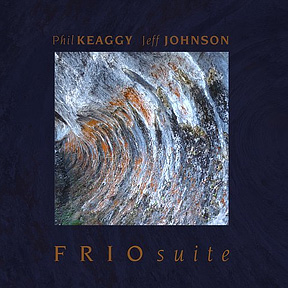 Unless one is a professional musician, it is extremely difficult to describe instrumental music in a CD review. And it's doubly difficult with Christian music. 'What does the following musical passage say to you about our Lord and Savior?' I have no idea! I'm not sure it's meant to say anything about Jesus, The Bible, Christianity, religion, of any philosophical stuff for that matter! [Okay, I feel better now].
However, please do not let allow my editorial ineptitude dissuade you from purchasing and fully enjoying Phil Keaggy's latest collaboration with Jeff Johnson. Most folks already know Keaggy's name. After all, he's a pioneering Christian rocker. In addition to his early work with 2nd Chapter Of Acts, he has also made some fine music with Randy Stonehill. And let's not forget his many excellent solo projects. But Keaggy's instrumental masterpiece, Master And The Musician from 1978, is the album that this latest release most often brings to mind. That vocal-less one was probably confusing when it first came out because many Christians were not yet ready for Christian rock, let alone Christian instrumental music.
Jeff Johnson is the lesser known of these two worthy collaborators. Although he also records vocal albums, he is probably best known as the Christian equivalent to a New Age artist. [And that comparison is unfortunate on many levels – but what's a guy to do?] His instrument of choice is keyboards of many kinds, although he also sings a little on this disc too.
This album is described in the notes as, "A musical journey to a place where heaven and earth truly meet." That place, in case you're wondering, is the Laity Lodge on the Frio River in Texas. Its website states: "Cell phones don't work in the Canyon. There are no telephones, televisions, radios, or internet access in the rooms. Yes, it really is a retreat place time to truly get away." In our information overload age, that sounds mighty attractive to me right now. How about you?
There is also a quote from poet Luci Shaw included in the CD package. It states, in part, that "Music needs no words/Being its own language." And in order to speak this wordless language, Keaggy has opted for gentle, atmospheric guitar lines much of the time here. There aren't any power chords played on this project. The closest this music gets to rock & roll is the far away chording heard during "Riding The Stone Waves", which mainly features Johnson's melodic touch upfront, instead. It should also be noted that Keaggy handles the bass work throughout this project. And by the sound of it, he's a severely underrated bass player. His lovingly flexible notes during the aforementioned "Riding The Stone Waves" are nothing short of beautiful.
This is great late night music. And although there aren't any specific spiritual messages one can draw from it, its tone would go perfectly with Bible meditation. Chances are good most people won't ever get the opportunity to experience a Frio River retreat. (You could take a sledge hammer to all your electronic devices, but I don't really think that would count). Yet with such inspired music, maybe you can simply create your own makeshift home retreat, with good pair of headphones and a quiet room. Think of it as a retreat from assembly line, commercial Christian music.
Tagged as: Frio Suite, Jeff Johnson, Phil Keaggy