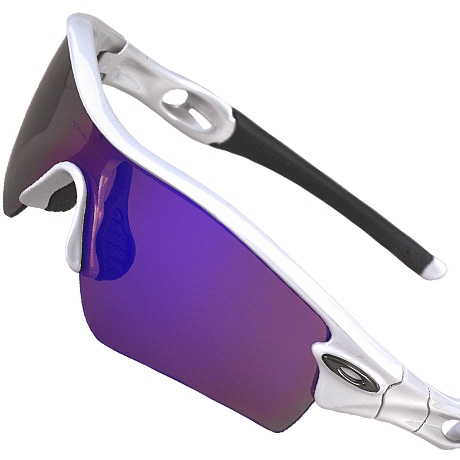 By now, you've probably heard about the latest succes-in-a-recession media darling from Florida who tossed his fourth straight no-hitter on Monday night.
But have you heard about Patrick Schuster's new Oakley sunglasses?
After letting some of the air out of the Patrick Schuster story by informing readers that 1. Consecutive no-hitters aren't that rare in high school (a kid from Texas threw five straight just two seasons ago) and 2. High school pitching stars, especially ones with a knack for pitching no-hitters, rarely find success in pro ball, Sports Illustrated columnist Andy Staples tells a moving story about a pair of 10-year-old Oakleys Schuster found in the pocket of a borrowed sport coat before his latest no-no:
For months, Patrick has asked his parents for a pair of Oakley shades. Sharon and her husband, Roger, who run a marine supply store, said that since Patrick has a job as a deckhand at a nearby marina, he should buy the glasses himself. "He schmoozes with the old ladies for tips," Sharon said.

On Monday, Patrick also had to present his senior project, a paper on sports medicine and steroids. All senior boys presenting projects were required to wear coats and ties, and, like most teenage boys, Schuster had sprouted since the last occasion he had to wear a sport coat. So he found a potential solution — a coat that had once belonged to his older brother, Shane. "Can I wear it?" Patrick asked his mother. "Go ahead," she said. "It's still in the closet."

Shane, 10 years Patrick's senior, had worn the coat once, to his cousin's wedding a decade ago. He never wore it again. By the time he attended that wedding, Shane was two years deep into a fight for his life.

Shane was athletic, but he never developed the taste for competition his brother would. But for some reason, Shane competed like crazy against cancer. The disease began as an osteosarcoma, a lesion on a bone in his leg. Through chemotherapy, radiation and surgeries, the family developed a routine. When Shane was in the hospital, Roger would stay with him during the day while Sharon worked at the store. In the afternoon, Sharon would pick up Patrick from elementary school and bring him to the hospital. He would spend time with Shane, and then Roger would bring Patrick home on his way to work.

Shane fought for four years. The tumor in his leg wouldn't stop growing, so doctors amputated the leg. By then, the cancer had spread to his lungs. One day near the end, 11-year-old Patrick made a plea to his parents. "If he needs a lung," Patrick said, "I'll give him one."

Shane died on Sept. 21, 2002. He was 22. Patrick attended the memorial service, but not the burial. His mother visits Shane's grave at least once a month. Patrick sometimes rides to the cemetery with Sharon, but he refuses to get out of the car. Still, Shane has stayed with Patrick. Patrick wrote the date of his brother's death on his cleats. In his locker, four rows of tape spell STS. Shane Thomas Schuster. Sharon believes Patrick's coolness, his indifference to the hordes of radar gun-toting scouts and his breezy rapport with a media contingent that has swelled exponentially in the past eight days stem from watching Shane in a competition that really mattered.

As Patrick left for school on Monday, he looked at the sky and saw storm clouds rolling in off the Gulf of Mexico. Great, he thought to himself. After all this buildup, his shot at history would get rained out. He shouldn't have worried. He should have known Monday would be special when he reached into the pocket of Shane's jacket and fished out a pair of Oakleys that had been untouched for 10 years. He immediately called his mother. "Looks like you have an angel looking out for you," Sharon said.
Not exactly the kind of story you expect to hear reading an article about a teenage sports phenom is it?
Click HERE for the rest.
Tagged as: consecutive no-hitters, Patrick Schuster