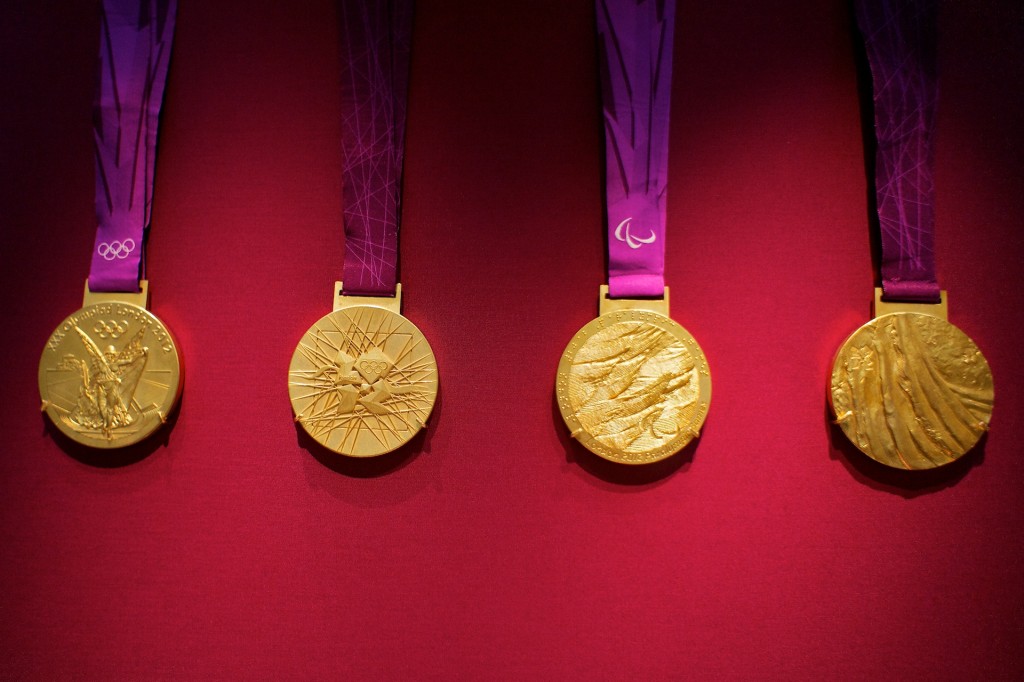 I don't own a television and have never had one of my own despite being somewhat of a fanatic when it comes to watching live sporting events, television shows and movies. A decade ago I would have been considered weird but today I represent one of a growing legion of families cutting the chord on cable and (in some cases) TV altogether.
Major sporting events like the World Cup, March Madness, baseball broadcasts of the Chicago Cubs, Major League Soccer games and live broadcasts of English Premier League games have been easy to find through either free or subscription services on ESPN3.com, MLB.tv and NCAA.com. TV shows and movies I have covered by Hulu.com and Netflix.com.
I assumed the same would be the case with this year's summer Olympics in London, the one I originally thought was supposed to finally acknowledge people like me who are willing to not only watch online but fork over money to watch live sporting events on a computer.
In the vernacular of Twitter, which has erupted with criticism of NBC's coverage of the games since the opening night decision to broadcast the opening ceremony on tape delay, the games have been an #NBCFail for me. In fact, after three days of checking the NBC Olympics website for even highlight videos of events that have already happened, I've resigned myself to a whole other form of spectating.
I've become almost giddy at times following the vitriol that has been spouted about NBC's bungling of the games, chuckling at every turn as viewers who have gotten past the wall blocking out those without cable subscriptions and in the case of Hope Solo athletes who have voiced opinions about the coverage. That the same network would come out around the same time and acknowledge a plan to swap out innovative programming with a cult following for tried and true formulaic ratings booster throw-aways seems appropriate. The network that's responsible for 30 Rock, The Office, Parks and Recreation and Community and more recently for improving the coverage of American soccer isn't so friendly a peacock, after all.
Finding criticism of NBC's treatment of the Olympic games hasn't required too much hunting on Google. Stories like one about a journalist getting his Twitter account suspended after posting criticisms of NBC – the official reason was that he violated Twitter policy by posting the "personal" email account of an NBC executive that in reality was a corporate account easily found online and therefore not personal or private.
Of course, the harsh reality staring back at all of the backlash is captured in headlines like this one from San Jose Mercury News – "NBC Olympics gets slammed on social media — and couldn't care less." Ratings are up, which means NBC is making money and sending gloating tweets like the one below from the network's chief digital officer Vivian Schiller.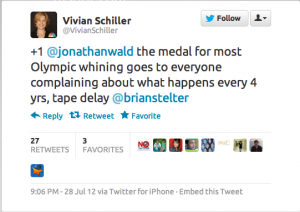 Quantity (of dollar bills) over quality is, of course, the aim here and there isn't anything the masses flocking to the coverage anyway can do to change that.
As Time magazine TV critic James Poniewozik put it in a tweet: "NBC tape delay coverage is like the airlines: its interest is in giving you the least satisfactory service you will still come back for."
I for one won't be coming back for more, because I haven't even been let in the airport, which is probably just as well since I am still behind on two seasons of Breaking Bad episodes and I log on Twitter enough to already know what happened anyway.
Photo via Wikimedia Commons