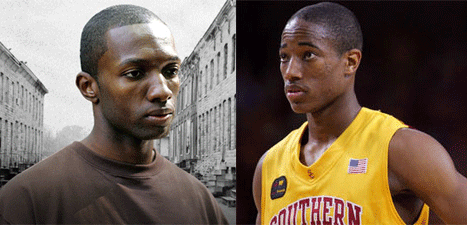 I immediately thought of The NBA Meets The Wire when I saw the above photo of the NBA-bound Demar DeRozan.
You have to admit, his resemblance to Marlo Stanfield (played by Jamie Hector) is pretty striking. And hey, if you're going to look like a character on The Wire it might as well be a calm, cool and fierce operator like Marlo.
DeRozan was a one-and-done at USC last season where he played with his friend the rapper and actor 'Lil Romeo. He is projected to go as early as the 10th pick in the upcoming NBA draft.
Tagged as: Demar DeRozan, Marlo Stanfield