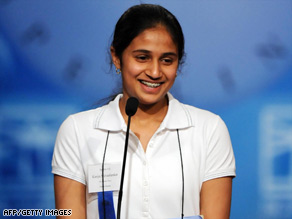 As a kid growing up in South Jersey, I was frequently ridiculed whenever the subject of where we were born would come up in a geography lesson.
"Olathe, Kansas?" classmates, most of whom had never been anywhere but the "shoor" for vacation, would ask. "Isn't that where Toto is from?" And then everyone would chuckle at the weird kid with the Joey Lawrence bang haircut and a birthplace too exotic for him to possibly be cool.
To all the annoying kids who ridiculed me growing up, I have this to say: How do you like my birthplace now?
Thirteen-year-old Olathe resident Kavya Shivashankar correctly spelled the word laodicean last night to win the 82nd annual Scripps National Spelling Bee.
Way to put Olathe on the map, Kavya, and beat the yellow-shirt wearing They Might Be Giants fan with the permanent smirk on his face.