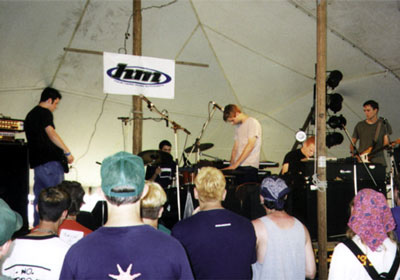 It's really pretty eerie how close Jeffrey Overstreet's experience of watching Ester Drang play was to my own:
The band was six-strong that night under the Cornerstone Magazine tent: two guitars, two keyboardists, bass, and drums. Their set got off to a shaky start but as the Drang pushed forward, they began to weave a spell over the entire crowd. Each song flowed into the next, creating a continuous and uninterrupted mood. By the time they hit the climax of "Felicity, Darling", I was, once again, floored. I couldn't say a word, but just rocked back and forth with a huge, goofy grin on my face.

Afterwards, my friends and I all had the same befuddled yet awestruck look. We'd just had a worship experience in the truest sense of the word. I left the tent as quickly as I could—I just needed to be alone right then. I needed time to process what I'd just experienced, to digest it all, and I didn't want anything to break the spell. And I wasn't the only one. Afterwards, once the shock had worn off, I spoke with several people who also felt the need to be alone, to reflect on an amazing experience.