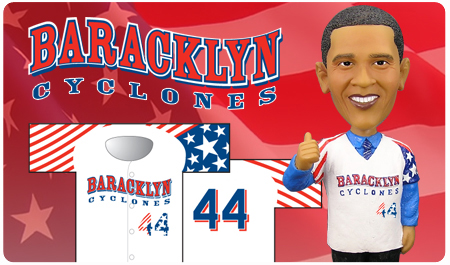 Auctioning off "Senate" seats sounded like a savvy piece of politically satirical marketing.
Changing the name of your team, designing hideous special edition American flag jerseys and giving away bobble head dolls to honor the new president sounds like something a couple of drunk Democratic operatives dreamed up on Election Night. 
As creepy and overly patriotic as it is that's exactly what the Brooklyn Cyclones, a short-season minor league baseball team that plays near the boardwalk in Coney Island, are planning for the start of their season in June.
For one night only they will rename themselves the Baracklyn Cyclones, give out bobble heads of President Obama, create "universal health care" in the form of free band-aids (but only for the first 1,000 fans), provide free bleacher seats for anyone named McCain or Palin, two free tickets to any plumbers named Joe and roll back advance ticket prices to 2001 rates.
I wish it was a joke. But unless some Obamabot hacked into brooklyncyclones.com, it is all too legit.
Tagged as: Baracklyn Cyclones, Brooklyn Cyclones, Minor League Baseball