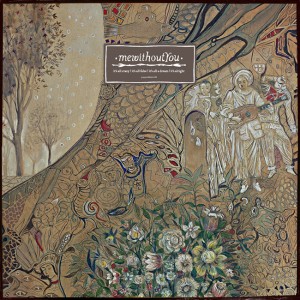 mewithoutYou – it's all crazy! it's all false! it's all a dream! it's alright
(Tooth and Nail, May 19, 2009)
mewithoutYou has been making music for the better part of a decade at this point, and I've been following them pretty closely. I remember picking up their first demo at an Operation show. At that point, I'd not have thought I'd be writing about mewithoutYou. Back then, the band was pretty standard three-piece hardcore that started so singer Aaron Weiss could "holler." Each record since that early demo has shown a band progressing toward their latest release, it's all crazy! it's all false! it's all a dream! it's alright due out this week.
Early on the band's label billed them as "Fugazi meets Radiohead." I don't know if that was an accurate description of [A–B] Life, but those influences were there to be sure. Production by DC Hardcore legend Jay Robbins certainly helped the Fugazi comparison for sure. Catch for us the Foxes, the band's second release moved away the earlier noisy hardcore and closer to your standard indie rock, while Weiss still got to holler, the hollering was taken down a notch and he even got to sing on a song. The album also featured Psalter Scott Kruger wailing and a little bit of Arabic in the background on one of the songs. In between the release of Catch for us the Foxes, and Brother, Sister, the band began to utilize new instrumentation–bringing in the accordion and many of the friends they had met along the way to create a great blend of their hardcore roots and quirky folk. That about brings us up to today. This time around the band worked with Daniel Smith of Danielson Famile fame. The collaboration is great, and totally fits the direction that the band has been moving since its inception. Aaron no longer screams at all, and comparisons could be drawn to the likes of Neutral Milk Hotel, the Decemberists, or most anything on Sounds Familyre.  
Aaron Weiss's lyrics have always been deeply spiritual, and I am sure the he has done a lot to introduce many young evangelicals to a different brand of Christianity. I remember seeing what must have been at least 20 people, mostly young men, gathered around Aaron hanging on his every word. I know that I've been drawn in at times. He is one charismatic fellow. But I wonder if old fans will still be as drawn in today. it's all crazy! it's all false! it's all a dream! it's alright, is highly influenced by the Sufi saint M. R. Bawa Muhaiyaddeen. The chant "I do not exist, only God exists," on Brother, Sister is one of Bawa's mantras, a pretty standard mystical teaching be it Islamic or Christian, and what the band closed its shows out with for several years. These days the band ends their show with "Allah, Allah, Allah." I also wonder if the same folks will be chanting along, or praying the Islamic prayer thrown in a few of the songs.
it's all crazy! it's all false! it's all a dream! it's alright, should cause some controversy, but the record makes for good listening. As always Aaron Weiss, his brother, Mike, Ricky Mazotta, Greg Jehanian and friends provide thought-provoking lyrics set to great music. But it is not my favorite mewithoutYou release.