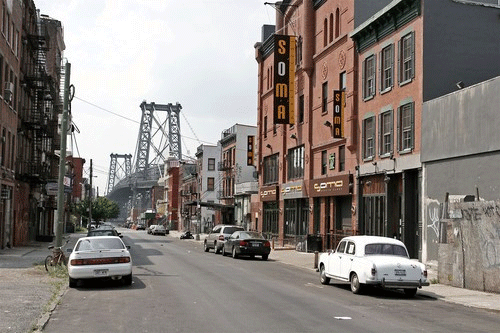 Bad news for trust fund hipsters in Williamsburg, Brooklyn.
Apparently, the recession is cutting into their ability to work low-paying jobs and dress like they're homeless but still afford to buy $700,000 condos and oh so many vinyl records.
From the New York Times:
In the boom years, Mr. Weinstein said, 40 percent of the mortgage applications he reviewed for buyers in Williamsburg included down-payment money, from $50,000 to $300,000, from parents. About 20 percent of the applications listed investments that gave the young buyers $3,000 to $10,000 of monthly income.

But in the past two months, Mr. Weinstein said, he has handled two to three deals a week in which the parents cut back their down-payment help.

The number of sales in Williamsburg dropped nearly a quarter in the first three months of this year compared with the same period a year ago, according to HMS Associates, a Brooklyn appraisal firm. And in three recent cases, Mr. Weinstein said, owners sold their apartments in short sales — selling for less than the bank is owed, to avoid foreclosure — because they were no longer receiving parental help.
How will these hipsters live without their $3,000-$10,000-a-month lifeline from mommy and daddy? Surely, they can't be expected to get real jobs working 40 or 50 hours a week. That would be so uncool.