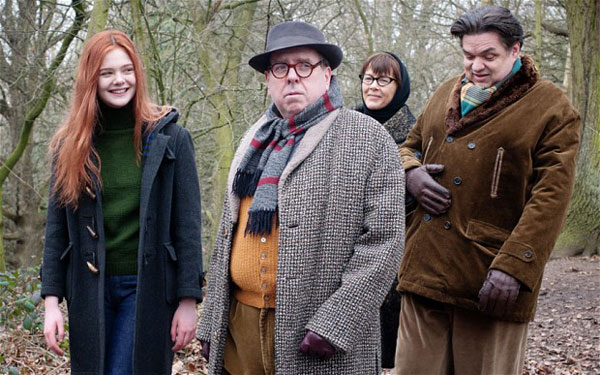 A British film starring Elle Fanning and set in London in 1962 during the Cuban missile crisis is slated for release in the U.S. in March.
In London, 1962,  two teenage girls, Ginger & Rosa (Elle Fanning and Alice Englert), are inseparable. They skip school, discuss religion, politics and hairstyles, and dream of lives bigger than their mothers' frustrated domesticity. But, as the Cold War meets the sexual revolution, and the threat of nuclear holocaust escalates, the lifelong friendship of the two girls is shattered – by the clash of desire and the determination to survive.
The film, which debuted at the Toronto International Film Festival in September, is directed by Sally Potter (Yes, Rage, Orlando) and also stars Christina Hendricks, Oliver Platt, Timothy Spall, Jodhi May and Annette Bening.
Fanning, the 14-year-old younger sister of Dakota Fanning, has received quite a bit of attention for her turn in the film playing a British teenager, garnering a nomination for best actress in the British Independent Film Awards and adjectives like "tranformative" and "heartbreaking" have been used to describe her performance.
Playlist Exclusive: Trailer For "Ginger & Rosa" Starring Elle Fanning from The Playlist on Vimeo.
via First Showing