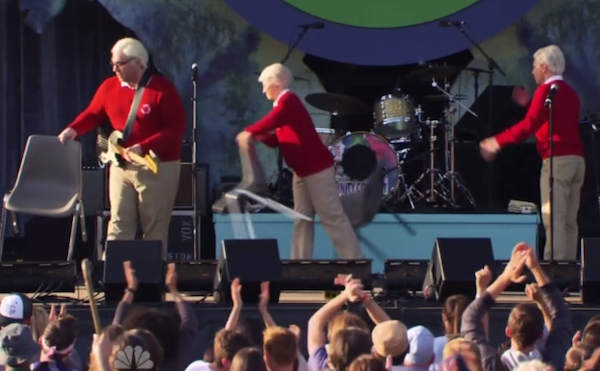 I'm still recovering from the shock of its time-jump ending, but one of many memorable and subtle moments in the season six finale of Parks and Recreation was one of the bands that took the stage for the Pawnee/Eagleton Unity Day concert.
While Jeff Tweedy's cameo was obvious and already the subject of a previous episode – he portrays the lead singer of the reunited for one-night only fictional band Land Ho! – Yo La Tengo's cameo is far more incognito.
The indie-rock legends wore white-haired wigs and red sweaters while covering Night Ranger's "Sister Christian" as the band Bobby Knight Ranger. At the end of the song, they all pick up and throw chairs to complete the send-up of the legendary Indiana basketball coach and band namesake.
The whole thing takes up less than a minute of the episode – James McNew sings the song's final line "But you're motoring / You're motoring," a quick close-up shows George Hubley ending the song on the cymbals and Ira Kaplan thanks the crowd before announcing the name of the band, which apparently only knows one song.
"Super cool to hear 'Sister Christian' that many times in a row," Andy Dwyer (Chris Pratt) says after they exit and the episode continues on its trajectory of a season finale that was so crazy it felt more like the final curtain of a show.
Something tells me Yo La Tengo may be asked to cover Night Ranger a little more often now at their shows. Brilliant.
Tagged as: Fictional Bands