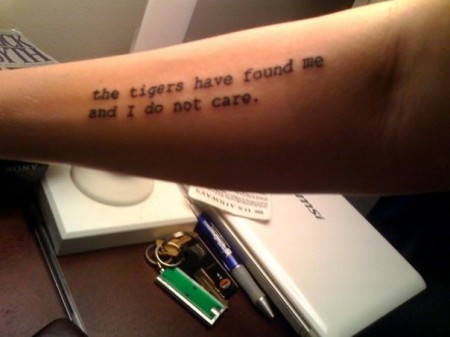 Rachel Weisz in The Mummy, Noah Wyle as The Librarian, and the entire cast of Dead Poets Society notwithstanding, geeks of the literary type are less immortalized on screen than their scientific brethren. But now there's a Web site for geeks who have immortalized their literary love in ink.
Contrariwise is a gallery of tattoos with primarily literary themes, but there are a few inspired by movies and music, as well.
There is a plethora of Jack Kerouac's "so it goes," and more than a few Harry Potter lightening bolts. My personal favorites are a simple ellipsis on the wrist and the alphabet written in a never-ending circle.
Less photographic, but also informative, if you would like to research your own literary tattoo is Bookworms with Ink.