News and Notes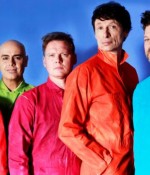 December 16, 2015
Dan Smith and Steve Taylor have a one-time collaboration called Steve Taylor & the Danielson Foil due out in February.

Damien Jurado has a new 17-song record, Visions Of Us On the Land, due out on March 18.

Artist Joey Spiotto has another exhibit of kids book covers modeled after Little Golden Books that are unfortunately not real – who wouldn't want to read a book about Andrew WK or Spinal Tap to their kid? – but are still pretty awesome.

The drama of the 1994 figure skating scandal involving star U.S. figure skaters Tonya Harding and Nancy Kerrigan has been commemorated with a museum in an apartment hallway in Brooklyn.

It's been long enough now since promising dreamy synth-pop Toronto band Grounders released their Wreck of A Smile EP that I almost forgot about how much I enjoyed the four-song tease that came out in March 2013.