Elsewhere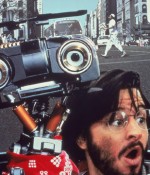 November 11, 2015
Comedian and actor Aziz Ansari has an episode of his Netflix series Master of None dedicated to Hollywood's dubious history with portraying Indians on film and in television and points out something many of us who haven't seen or thought about Short Circuit 2 in a really long time didn't realize: that the Indian character in […]

Parks and Recreation is unfortunately coming to an end this week, but the show's zany cast of Pawnee, Indiana-grown characters won't be soon forgotten.

Bill Murray really only wanted to play baseball and golf during the summer of 1978 and he was accomplishing one of those things playing for the Grays Harbor Loggers when the opportunity to star in Meatballs came his way.

Since today is National Kazoo Day, NPR has a story about one of two places in the U.S. that manufacture the plastic toy instruments anyone can play.

Looking at stock photos can be a real drag, but The Stock Photobomber makes stock photos fun by Photoshopping himself into otherwise lame and often unusable photos.