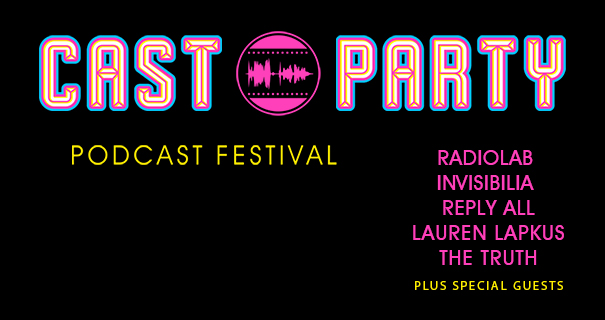 Podcasts have been everywhere in the news this year – Serial is still everywhere, President Obama stopped by Marc Maron's garage to be interviewed for WTF – so it only makes sense that the medium would ride the wave of popularity to the level of a stage show simulcasted to movie theaters around the country.
But what exactly is a podcast festival?
That was the question my wife asked when we went to King of Prussia to sit in theater seats and find out what some of my favorite podcast hosts look like in HD video. The event was called Cast Party and actually came two days after another New York podcast event (Tape Fest) featuring Planet Money and others that wasn't simulcast.
Taking radio or podcast shows to the stage isn't a new thing – This American Life had a killer live show last year, Prairie Home Companion has been around seemingly since the beginning of radio and Snap Judgment does regular live shows – but piecing together a show out of a group of podcasters did have an element of novelty and risk associated.
After all, part of the reason these shows are so great is that they keep you company on your morning and afternoon commute. Competing with 15 other screens of summer blockbusters and weeknight family time, would it hold up?
After an opening comedy video featuring Serial host Sarah Koenig and others trying to explain what a podcast was, This American Life producer Seth Lind took the stage to introduce the night's festivities. Familiar and friendly as his voice is doing those Mail Chimp commercials on This American Life, Lind made me question my love of podcasts with his remarks and his overall nervous demeanor throughout the night. "Is this what I sound like when I talk about podcasts?"  I thought to myself as he struggled to get out actual words in between endless ums, filler words and poorly delivered punch lines.
The worst part was a super awkward bit he did with surprise guest Ira Glass where he showered his boss with praise after he pretended to fire him for playing tape of Ira flipping out in the studio. Fortunately, the podcast hosts were up to the task of saving the show from itself. Alex Goldman and P.J. Vogt of Reply All kicked things off with a story about a Yelp-panned theater production that somehow has the World Record for longest continuously running show. Adding video to their repertoire of recorded interviews and live commentary, Alex and P.J. showed why they are rising stars in the podcast universe. I was particularly impressed with how they started with a story about Yelp and ended up turning it around into a self-exploration of their own personal motivations and values as podcast hosts.
Lulu Miller of Invisibilia followed a brass performance by The Westerlies with a story about a guy trying to break a four-minute mile. Co-host Elise Spiegel didn't make the trip but did interject in the story at one point to challenge Lulu to tell the story in under four minutes. Lulu succeeded but she left open-ended a lot of questions I can only hope will be answered in the upcoming second season of the NPR podcast.
Two podcasts I'm not familiar with – The Truth and With Special Guest Lauren Lupkus – and the Cocoon Central Dance Team filled the time before the finale from RadioLab. The Truth did a Roast of the United States sketch with various actors playing different countries. The sketch was entertaining and well-performed but started to run long and didn't completely land, at least not with the audience where I was (I felt like I was the only one laughing in the theater). Lauren Lupkus had Saturday Night Live cast member Bobby Moynihan as the guest/host of her improv podcast. Moynihan started off strong and showed off his chops as Lupkus, of Orange is the New Black fame, kept adding weirder and more bizarre material to respond to, but the longer the sketch ran the more I found myself looking forward to the next act.
That act was RadioLab, the hometown show that brought along a string quartet with them for an experiment related to Beethoven's metronome. As is the case with their show so often, I was both surprised at how interesting they made a story about a metronome sound and blown away by how they break down complexity into entertaining soundbites with intellectual and folksy charm. It was an encore performance on a night that wasn't without its flaws, but ultimately demonstrated in two and half hours why the podcast medium has collected such a devoted following.