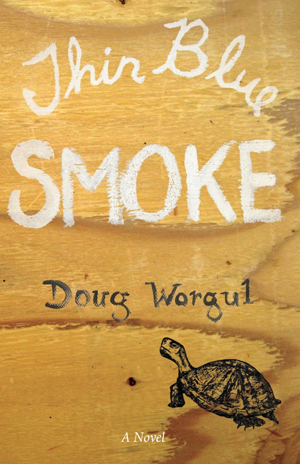 I was talking to a friend recently about this wonderful novel I had just read called Thin Blue Smoke. "It's about baseball, barbecue and God," I told him. "Three things I love."
In truth, baseball and God are more behind the scenes players in the novel set at a Kansas City barbecue joint that also pulls in a series of other topics ranging from gentrification and civil rights to mental illness, alcoholism and problem gambling.
The barbecue joint, affectionately known as Smoke Meat, is a key player in the narrative that unfolds about its grumpy former Kansas City Athletics outfielder owner LaVerne Williams and the diverse cast of characters who frequent Kansas City's best kept culinary secret. Through the richly developed characters, Doug Worgul weaves the kind of story that brings the characters so vividly to life you'll find yourself wanting to Google them to see "where they are now" when you finish reading it.
I'm a recent convert to the world of barbecue enthusiasm, thanks in part to the aforementioned friend who most recently introduced me to Carolina barbecue. Before reading Thin Blue Smoke I would say everything I knew about appreciating barbecue I learned from him. Worgul, who in his bio is referenced as "a nationally-recognized authority on the history and cultural significance of American barbecue traditions," has now become my other source for appreciating not just the culture and tradition, but the spiritual significance as well.
Barbecue, as Williams explains toward the end of the book, is about making something special out of the not so glamorous, taking the pieces of meat that would be otherwise discarded or tough to eat and turning them into something memorable. This process occurs not just with the meat in this story, but with the people whose lives cross paths and change forever over a checkered tablecloth and a basket of smoked brisket.
A true testament to Worgul's gift as as a writer and food critic is his ability to bring you into this world without making you feel like an outsider who has only ever eaten at Famous Dave's. Like the fictional BBQ joint that welcomes all comers, Worgul's book manages to include all of the elements of a great novel English majors spend four years studying without ever coming across as one of those books that strokes literary critics egos while boring everyone else to tears (there's a reason I've read so little fiction since earning a degree in English). In the end, the book accomplishes what all good works of art should – it inspired me to consider taking up fiction writing again, imagining and re-visiting characters I've created and long since forgotten from my days as an aspiring fiction writer.
At the risk of sounding hyperbolic, the book has done for me at 34 what To Kill A Mockingbird did to me at 13. It's restored my love and appreciation of the novel and reminded me the value and importance of stories that come to life and characters who occupy our imaginations.
Buy Thin Blue Smoke on Amazon.com (affiliate link) >>