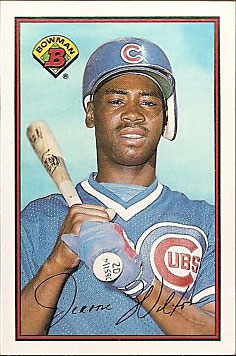 "Not even a Rookie of the Year is ready to be elected to the Hall of Fame. I'm afraid this prize will be bad for Obama. For political reasons and on the merits, he should paraphrase Shakespeare to the Nobel committee: 'As you shall prove me, praise me.'" – George Packer
Remember Jerome Walton? He was the Cubs centerfielder who leveraged a 30-game hit streak into a Rookie of the Year award 20 years ago. Remember how hot his rookie cards were?
If there was a Hall of Fame for potential, he would have been inducted after the '89 season. But there wasn't, thankfully, or else Cooperstown would have a lot of egg on its face right now. Let's hope the same doesn't happen for the Nobel organization, which made the surprise decision to award President Obama with a Nobel Peace Prize.
The haters are going wild with this as they do with anything they can use against the president (Olympic FAIL!!!) and those on the left have probably already noted that the Taliban has taken a similar opposition approach as if to say opposing the award being given to a rookie who hasn't even made it through one season as president makes one an anti-American terrorist.
I tend to agree with Packer on this one and hope, for the sake of our country and the world, Obama's premature peace prize doesn't end up being the equivalent of a bronze plaque of Jerome Walton's face hanging next to Ernie Banks.
Tagged as: Jerome Walton, Nobel Peace Prize, President Obama