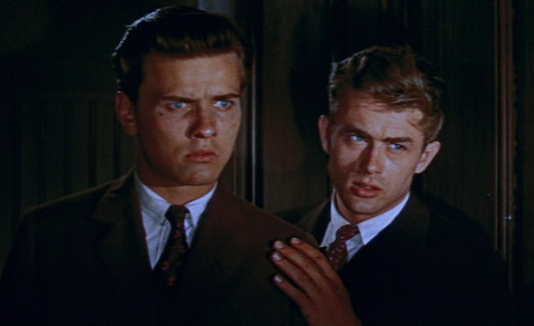 On a recent visit to Salinas and Monterey, Cal., two places that play prominently in Author John Steinbeck's body of fiction and personal biography, I noted to my wife that Hollywood was long overdue for an adaptation of one of his works. The last time that happened was the 1992 treatment of Of Mice and Men starring Gary Sinise and John Malkovich.
Well, it turns out I wasn't alone in thinking this.
Steven Spielberg is reportedly planning an update of Grapes of Wrath and Hunger Games director Gary Ross is the latest to generate Steinbeck-related news by eyeing East of Eden for source material starring Jennifer Lawrence as calculated evil brothel owner Cathy Ames. Unlike the original East of Eden treatment from director Elia Kazan in 1952, this adaptation is expected to explore more of the book with a pair of films depicting the two generations of Cane and Abel-inspired brothers.
As movie adaptations go, I'd prefer Hollywood leave both movies well enough alone. What could Spielberg possibly do with Grapes of Wrath that won't fall short of the original 1940 film directed by John Ford and starring Henry Fonda. Better yet the director of Hunger Games recasting a role once played by James Dean?
Movie adaptations of classic literature almost never suffice so in the few cases when movies have been made from novels that are on par or even better than the original source material I say leave them well enough alone. To Kill A Mockingbird, for example, is as great and beloved a novel as it is film so why even try imagining anyone else playing Atticus Finch?
The Great Gatsby may have something to do with starting the trend or at the very least continuing it. The big budget revisiting of F. Scott Fitzgerald's classic novel should have been a cautionary tale for its low ratings, but the returns in the box office (more than $300 million worldwide) show there's still money to be made in mediocre book adaptations starring A-list actors.
John Steinbeck's work deserves a resurgence in Hollywood. The 2000s were the only decade since the 1930s to not have a Steinbeck-inspired film produced, but Grapes of Wrath and East of Eden, which was also made into a miniseries in 1981 shouldn't be the films ushering the charge. Neither for that matter Lifeboat, the Alfred Hitchcock film he wrote.
I'd prefer to see Zoey Deschanel starring as Suzy in a Cannery Row/Sweet Thursday adaptation (Debra Winger's role in the 1982 movie Cannery Row) or Daniel Day-Lewis as the Pulitzer Prize-winning novelist in a Travels With Charley biopic than another swing and miss remaking a revered adaptation of a great American novel.