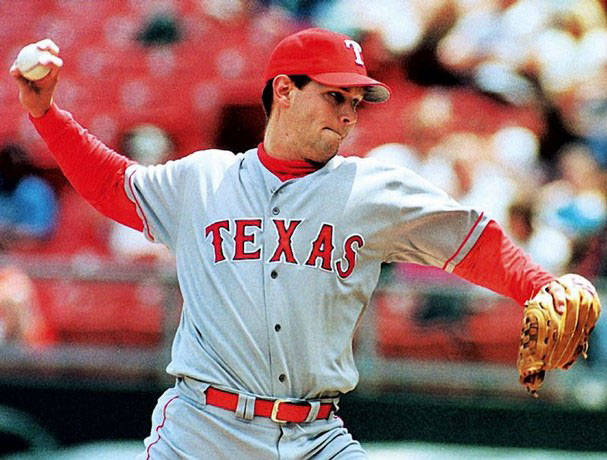 While the big news in baseball today was that no one received enough votes to be elected to the Hall of Fame in part because of the baseball writers punishing public enemies 1, 2 and 3 of the steroid era, the even bigger news for those of us who collected baseball cards as kids and love reminiscing about mediocre players and even vandalizing their baseball cards is that Aaron Sele received a vote.
It was only one, but it was one more than the right-handed pitcher with a career ERA of 4.61 and 148 wins deserved or ever realistically imagined he'd get. Looking over a career that spanned from 1993 to 1997 and included stops in Boston, Texas, Seattle, Los Angeles (both teams) and Queens, the only thing remarkable about his career is how unremarkably consistent it was.
Sure, he won 19 games for Texas in 1998 and 18 a year later, but his only other highlights beyond one of the most pointless stats in baseball is that he was selected to the All-Star team twice, which is itself another worthless footnote because, well, All-Star team selections are rewards for pitchers who are having good first halves of seasons, the rest of their season output be damned (thanks to voting, positional starters don't even need to play well, if at all).
Players have gotten solitary votes on Hall of Fame ballots before – Eric Young, Javy Lopez, Kevin Appier, Pat Hentgen, Jesse Orosco, admitted steroid user David Segui, Benito Santiago and Brett Boone are all in the one-vote club – but the controversy surrounding this year's vote and the fact that no one was voted in to the hallowed halls in Cooperstown have given Sele's vote enough added attention he was trending on Twitter today and Baseball Reference page blew up.
Below is a sampling of the top posts from Twitter, including one that gets bonus points for also mentioning Gregg Jefferies.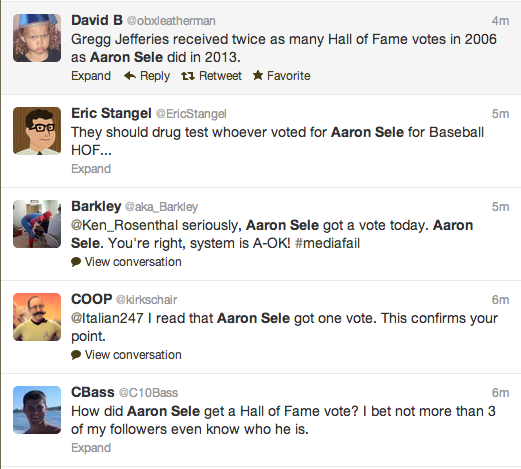 As you can see some people are outraged that Sele would get a vote, but the fact that we are all talking about him here and on Twitter makes whoever cast that vote a true American hero. Long live the consistently mediocre stalwarts of the great game of baseball. Long live Aaron Sele.