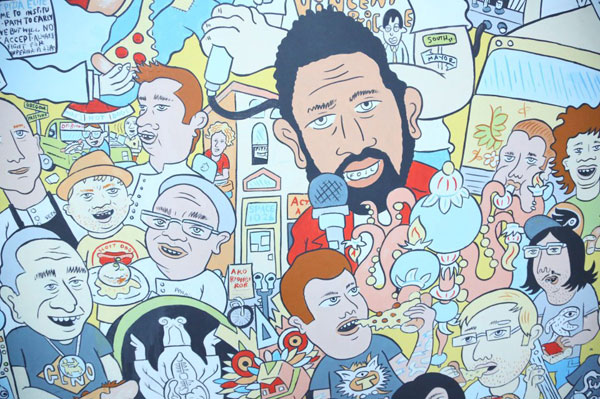 As much as I enjoy reading lists this time of year filled with superhero movies, bands whose names alone make me never want to listen to them and other nonsense, I'm going to spare you with any kind of definitive lists you are better served reading in publications that actually spent the entire year actively engaging in culture in ways that give those lists some (if any) currency.
Instead, I'm going to share a top 10 of things that I found this year to be highlight-worthy from my own personal experiences in 2012. I welcome your own 2012 highlights and thoughts about culture that moved you in the comments.
Cloud Nothings – Attack on Memory. I've scratched my head at many of the inclusions on best-of music lists I've read from 2012 but one band I don't question at all being included is Cleveland's Cloud Nothings. Attack on Memory is a force of an album that reminded me of the feeling I got listening to Archers of Loaf for the first time some time in the '90s all over again when I heard it in early 2012. While it definitely owes something to the mid-'90s indie-rock scene the album doesn't sound dated or nostalgic. That so many people in the know remembered to include the album on their year-end lists so many months later speaks to it to being remembered and referenced for years to come.
Sleepwalk With Me. I rarely go to the movies, but even if I did I could probably count on one hand the number of movies that played in the theaters that I had any interest in seeing in 2012. Sleepwalk With Me was one of them and it didn't disappoint. If anything I was more impressed than I expected since I saw it on DVD after critics had picked it apart. But then again I'm a regular attender of Ira Glass's church of This American Life and the movie was preaching to the amen choir throughout. Even still, it was a movie that deserves credit for being funny without being horridly crude and for the way it creatively brought a memoir-style screenplay to life.
Caine's Arcade. For the most part calling a video "viral" in 2012 meant it was an annoyingly stupid waste of time. But the video about Caine's Arcade, a cardboard arcade a boy in California made at his dad's autopart store that a filmmaker stumbled upon was nothing of the sort.
Breaking Bad. I wrote Breaking Bad off a couple years ago because I made the mistake of parachuting into the middle of a mid-season episode but my wife and I made the plunge earlier this year and after a weeks-long binge lamented right along with the rest of the social media world over the break before the second half of the current season resumes.
Mike Trout, Rookie Phenom. While Miguel Cabrera's Triple Crown season should be considered the feat of the year in sports, his only legitimate challenger for MVP was a player whose story I cared about more for reasons beyond our being from the same state. The 20-year-old Millville, N.J.-native was such a beast in his first full season contending for a batting title, hitting homeruns, swiping bases, knocking in runs and playing excellent defense, it was hard not to get caught up in the fever of what is arguably the greatest rookie season, possibly in any sport, of all time.
Neil Halstead's "Full Moon Rising." While the latest album for the former Slowdive and Mojave 3 frontman is as good as expected, Neil Halstead's "Full Moon Rising" is a great song that I couldn't stop listening to this year. That it's still on rotation now into 2013 with as many listens as it had in 2012 speaks for why I'm mentioning it again here.
Thin Blue Smoke by Doug Worgul. I'm not really a big fiction reader, but Doug Worgul's novel set in a fictional hole-in-the-wall BBQ joint in downtown Kansas City was even more enjoyable to read than many of the excellent nonfiction books I devoured this year. I liked it so much I even wrote a review.
Thierry Henry's winner in Arsenal return. As an Arsenal fan, 2012 got off to an incredible start when already bronzed Gunner legend Thierry Henry scored a game winner in a FA Cup third round match against Leeds United in his return to North London on a mid-season loan from Red Bull New York. The video still gives me chills.
Springfield, Missouri. I ended up spending a couple days in Branson, Mo., for a work conference my wife was attending and the nearby town of Springfield provided a most welcome diversion. Where Branson is completely pointless and devoid of anything unironically cool, Springfield's up and coming downtown is filled with interesting boutiques, eateries, coffee/cupcake shops and other cool things that made for a fun visit and respite from the tackiness of its tourist trap neighbor to the south.
Pizza Brain Opening. A pizza place/pizza museum opened in North Philly in September so I dragged my whole family there for my birthday in October. It did not disappoint. In fact, I would consider a visit more of a priority for out-of-towners than waiting in line to see that famous bell with a crack in it. Beyond the peculiarconcept, the staff is super friendly and makes a concerted effort to be more than just a pizza place but a good neighbor. (The photo above is of part of the large mural on the Pizza Brain's back alley).
Your turn.